Create FlowCharts in Excel
Free Flowchart Excel Template - Completely Automated
We created this simple yet powerful template so that you can create Professional Flowcharts in Excel
If you're introducing a new process, or documenting an existing one, then you can download this free flowchart template to create flowcharts.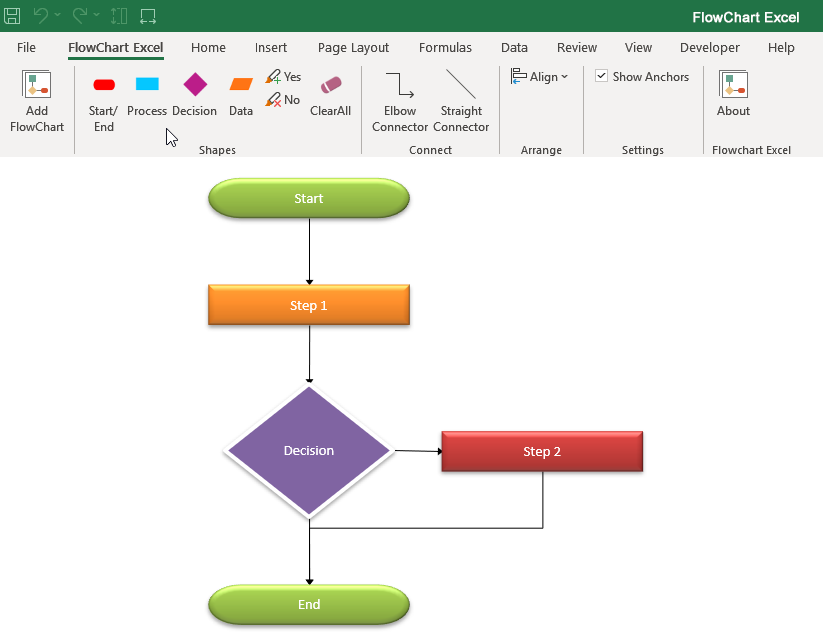 How to Create a FlowChart in Excel
Here are the steps to create a flowchart in Excel.
Click on the Add FlowChart button. This will add a new flowchart worksheet.

Click on any shape button in the FlowChart Excel Menu.

A new shape will be created with a red anchor point.



 

 

Click on the shape to open the red anchor point to add connected shapes.
This will bring up a + icon on all sides of the shape. 






Select any icon to add a connected shape.




Flowchart Excel will automatically create the selected shape and connect the two shapes.




And that's it, you can add as many shapes as you want and create a professional flowchart.
Since the template is designed in Excel you can change the format of the shapes and colors as well.